Bulwer's Petrel Bulweria bulwerii: review of Irish record and claimed records, March 2016.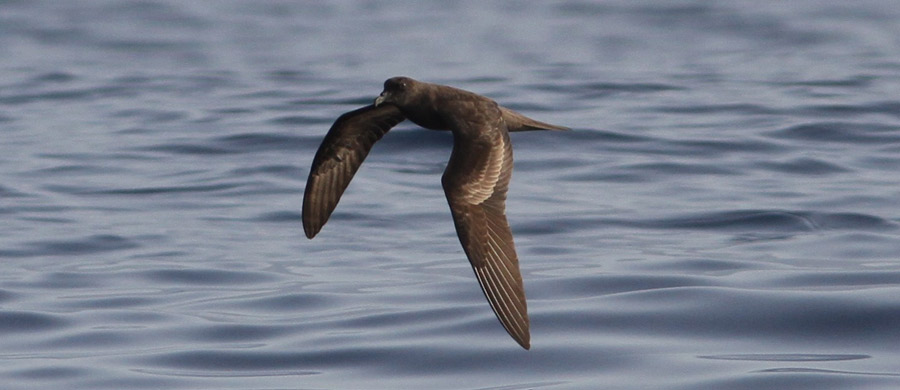 Bulwer's Petrel, at sea off Madeira, 14th May 2012 (Photo: Killian Mullarney).
Introduction
Bulwer's Petrel Bulweria bulwerii is currently on the Irish List based on a single record off Cape Clear Island (Cork) on 3rd August 1975 (Preston 1979). In addition, there have been several claimed records over the years, but only one of these has ever been accepted (off Cape Clear Island on 26th August 1965). However, this record was reviewed in 1988 and was deemed unacceptable (Mullarney 1988).

Prior to the late 1980s any dark-rumped petrel in northern European waters was considered, almost by default, to be a Bulwer's Petrel. This is hardly surprising considering that Swinhoe's Storm-petrel Oceanodroma monorhis was unknown in the North Atlantic until the 1980s, and was not confirmed until 1992 when DNA samples taken from birds trapped in north-east England proved its occurrence in European waters (Cubitt 1995). The first Irish record of Swinhoe's Storm-petrel was in 1985, but this bird was not accepted by the Irish Rare Birds Committee (IRBC) until many years later, in 2002 (Milne 2004).

Many Bulwer's Petrel records in northern European waters in recent years have been either rejected by the relevant rarities committees or have had their identification questioned by expert opinion, thus changing the understanding of its status in the area. With this knowledge, and a greater awareness of the separation of these similarly plumaged species, the IRBC felt it was time to review the Irish Bulwer's Petrel record, and claimed records. As there have been few submissions of Bulwer's Petrel records to the IRBC, it was decided to review all of them, including those previously not accepted, to establish if any could now be accepted as Bulwer's Petrel or Swinhoe's Storm-petrel.
Results of Review
Four claims of Bulwer's Petrel have been submitted to the IRBC, or its predecessor, and these were reviewed as well as soliciting the opinions of seabird experts abroad. A brief summary of each record assessment is presented:
Cape Clear Island (Cork), 26th August 1965
This record was accepted for a number of years but was deleted from the Irish List following the 1988 review (Mullarney 1988). It was seen at close range off Cape Clear Island for a short time. However, there were few details describing flight-style or structure and its estimated size was not consistent with Bulwer's Petrel. Overall, there was insufficient detail to ascribe this bird to any species.
Cape Clear Island (Cork), 22nd July 1975
The descriptions provided for this bird, e.g. a square-ended tail and a patch of white on the under-tail do not indicate a Bulwer's Petrel or allow it to be ascribed to any species.
Cape Clear Island (Cork), 3rd August 1975
Up to now this record has been accepted as a Bulwer's Petrel, and is the best documented of all claims. The descriptions submitted agree on a number of features. However, some of these no longer support identification as Bulwer's Petrel. In particular:
The size is described as 'very noticeably smaller than a Manx Shearwater' Puffinus puffinus. This does not tally with Bulwer's Petrel, and perhaps suggests a bird of Leach's Storm-petrel Oceanodroma leucorhoa (or Swinhoe's Storm-petrel) size.
The tail is described as square-ended. This is wrong for Bulwer's Petrel, which always shows either a tapering, or wedge-shaped tail when splayed.
The elongated front end projection gives Bulwer's Petrel a unique appearance with a 'stretched' neck, but this feature is not reflected in the descriptions, which describe the bird as being 'virtually identical in shape to a Storm-petrel' Hydrobates pelagicus and 'all wings and tail'.
Some other features, depending on how interpreted, could point towards Bulwer's Petrel but it was unanimously felt that acceptance of this bird as a Bulwer's Petrel was no longer justified, particularly with Swinhoe's Storm-petrel now known to occur in the North Atlantic. Indeed there are suggestions that this bird could have been a Swinhoe's Storm-petrel, e.g. the size and tail shape, but unfortunately it was felt that there was not enough detail to accept it as such.
Brandon Point (Kerry), 11th September 2003
The description provided did not allow a definite identification to be made. In particular, the quoted size suggests a smaller bird than Bulwer's Petrel.
Summary
As a result of this review, Bulwer's Petrel has been removed from the Irish List (a pdf copy of the Irish List is available through the IRBC website at www.irbc.ie/topbar/categories.php). Any of these records could refer to a Swinhoe's Storm-petrel, which was an unknown identification pitfall, particularly for the earlier claims. Any Bulwer's Petrel claim should ideally include details of precise flight-style and structure as well as a careful appraisal of size. This can be one of the most difficult aspects to judge correctly and ideally should be in direct comparison with another species.
Acknowledgements
The IRBC wishes to thank Bob Flood, Brian Patteson and Steve Howell for their invaluable expert advice and comments during this review.
References
Cubitt, M. 1995. Swinhoe's Storm-petrels at Tynemouth: new to Britain and Ireland. British Birds 88: 342-348.
Milne, P. 2004. Fiftieth Irish Bird Report 2002. Irish Birds 7: 385-412.
Mullarney, K. 1988. Irish Rare Birds Committee Report. Irish Birds 3: 649-652.
Preston, K. 1979. Twenty-sixth Irish Bird Report, 1978. Irish Birds 1: 413-449.